Q:
Does it matter which version of FrostWire I use?
A:
Yes. Using the most recent version of FrostWire allows users to enjoy the best program functionality. Bugs reported in older versions have been fixed for our latest version. Any users with FrostWire 2.5 or earlier MUST update. To download FrostWire, please visit www.frostwire.com. The FrostWire program will automatically notify you if there is a new version available.
Q:
I am trying to install FrostWire on Windows, and I keep getting an error message saying that the installer is corrupt. What can I do?
A:
There may have been an error in the transmission of the installer causing it to become corrupt while it was being downloaded. Delete the installer that you have already downloaded and clear your browser's cache, then try downloading it again. Also make sure that you are not using any download managers or download accelerators as they have been known to produce these errors.
Q:
What's the difference between the Recommended Installer and the Offline Installer?
A:
The Recommended, or "Stub," Installer saves bandwidth on our servers by downloading the installer from other FrostWire users rather than from our servers. If for some reason you are having problems using the Recommended Installer, try using the Offline Installer. The Recommended Installer is only available for FrostWire BASIC.
Q:
The installer freezes at "installing Java," so the FrostWire installation never finishes. What can I do?
A:
The Java installer can occasionally freeze on some systems. While we (and InstallShield) are not sure precisely what is causing this problem, there is a potential work-around. The following steps may get your FrostWire up and running successfully.
1. When the installer freezes, DO NOT STOP THE INSTALL PROCESS.
2. Go to the Start > Settings > Control Panel window.
3. Go to "Add/Remove Programs".
4. If you see "J2SE Runtime Environment 5.0" listed, then the Java installer has probably been installed successfully, and you should now continue to step 7.
5. If you do not see "J2SE Runtime Environment 5.0" listed in the Add/Remove Programs window, try downloading and installing the JRE directly from Sun [here].
6. Once you have installed the JRE, then try running the FrostWire installer again. If the installer continues without freezing, then you do not need to continue with the rest of the instructions.
7. Ok, so you have verified that the JRE is listed in the Add/Remove Programs window. You can now close the Add/Remove Programs window.
8. Press Ctrl+Alt+Del on your keyboard to bring up the Task Manager.
9. Within the Task Manager window, locate the Java installer. If you do not see under the Applications tab, check under the Processes tab. Select it and click End Task or End Process.
10. Close the Task Manager window. If everything worked correctly, the FrostWire installer on your desktop will have moved on to the next step. You should now be able to complete the FrostWire setup and run FrostWire.
If that does not work, then uninstall all versions of FrostWire and Java from Add/Remove Programs, then install Java [here], then install FrostWire.
Q:
I am an AOL subscriber, and I am having trouble downloading and installing.
A:
Many AOL users have had problems successfully downloading and installing FrostWire when using the AOL browser. Downloading the installer with a different browser, such as Firefox or Internet Explorer, should allow you to download and install without any problems.
Q:
What should I do if I'm still having trouble installing and running FrostWire?
A:
For further help, please visit our Support Center page [
here
], or consider posting a message on our support forums [
here
].
Q:
How do I uninstall FrostWire?
A:
On Windows XP:
1. Shutdown FrostWire completely if it's running
2. From the "Start" menu in Windows, select "Control Panel"
3. Select "Add/Remove Programs"
4. Select "FrostWire"
5. Click "Change/Remove"
On Windows Vista:
1. Shutdown FrostWire completely if it's running
2. From the "Start" menu in Windows, select "Settings" > "Control Panel"
3. Select "Programs and Features"
4. Select "FrostWire"
5. Click "Uninstall/Change"
A Wizard window will appear, just follow it's simple instructions to finish uninstalling.

Q:

How do I uninstall the Ask Toolbar?


On Windows XP:
1. Close all open Web browsers
2. From the "Start" menu in Windows, select "Control Panel"
3. Select "Add/Remove Programs"
4. Select "Ask.com Bar"
5. Click "Change/Remove"
On Windows Vista:
1. Close all open Web browsers
2. From the "Start" menu in Windows, select "Settings" > "Control Panel"
3. Select "Programs and Features"
4. Select "Ask.com Bar"
5. Click "Uninstall/Change"
Now just follow the simple instructions and the Ask Toolbar will be uninstalled. Should you reopen your Web browser and still see the Ask Toolbar, you may need to restart your computer for the uninstall process to be completed.



Q:

Why does FrostWire take so long to load?

A:

It takes a while to initialize the FrostWire GUI (Graphical User Interface). In general, startup times for Java applications are slower than for native applications. However, Java programs will work much faster after initialization.

Q:

I try to start FrostWire and nothing happens. What's the problem?

A:

You may have uninstalled FrostWire, or a spyware removal program may have miscategorized FrostWire as spyware and removed it (such as AOL's anti-spyware software), yet the shortcut still appears on your Windows desktop or taskbar. Please update to the latest version by downloading the installer.If FrostWire is still installed on your Windows system yet you still cannot launch it, Java may be corrupted. To correct the problem, uninstall the Java Runtime Environment from Add/Remove Programs (go to: Start > Control Panel) and then redownload and install it [

here

].

Q:

Do I need to be connected to the Internet to run FrostWire?

A:

Yes. The Gnutella network is a system of computers connected only through the Internet. In order for FrostWire to connect to the Gnutella network, an internet connection must be present. FrostWire will not establish an internet connection for you.

Q:

Every time I click the FrostWire icon to open it, I get the error "FrostWire was unable to initialize and start" What does this mean?

A:

Some security programs block loopback connections for all programs on your computer unless an exception has been created within the security program. If you are running Norton Antivirus, look for the Internet Worm Protection feature, and add FrostWire to the list of exceptions in that section.

Q:

What is a loopback connection?

A:

A loopback connection is a connection where your computer talks to itself. An application will often utilize loopback connections in order to send messages to itself (for example, to see if a previous instance of the application is already running).

Q:

Why can't I establish a good connection immediately?

A:

The longer you run FrostWire, the better its connection to the network becomes. Running the application for an extended period of time will generally result in a better user experience.

Q:

Why do I sometimes lose my connection to the Gnutella network?

A:

Intermittent connectivity can be the sign of a faulty internet connection, limitations imposed by your ISP, or errors caused by any hardware/software applications connected with your internet connection, such as driver incompatibilities, old hardware, a slow/overloaded ISP or many other possibilities. Also, if you get disconnected from the Gnutella network, it will have no impact on your downloads already in progress. There is also a known issue that affects some Windows XP SP2 systems that causes FrostWire to disconnect and remain disconnected. To find out if it affects you, do the following at the moment FrostWire becomes disconnected:
Go to: Start > Settings > Control Panel (Make sure you are in "Classic" view)
Go to: Administrative Tools > Event Viewer
Click System in the list on the left side of the window
If you see an error with an event ID of 4226 that was generated at the moment FrostWire disconnected from the Gnutella network, then the following suggestions should help to reduce the occurrence of that error:
Disable Ultrapeer Capabilities in Tools > Options > Speed
Minimize the number of simultaneous downloads (can also be found in Options > Downloads)
Minimize the number of other internet programs used alongside FrostWire
Q:
How come I only connect to a few hosts? I used to connect to many more hosts!
A:
High performance and bandwidth machines on the network are recognized by FrostWire as 'Ultrapeers'. These machines accept connections from many FrostWire clients while also connecting to the rest of the Gnutella network. Moreover, the Ultrapeer shields these 'regular' FrostWire clients from the CPU and bandwidth requirements associated with Gnutella, directing traffic to clients in an efficient manner.
The reason you see only a few connections in your connections tab is because you are a FrostWire client connected to an Ultrapeer. Unfortunately, not all Ultrapeers are as good as others. If you find that you aren't getting many search results with the Ultrapeers you are connected to, simply disconnect and connect. You'll probably connect to different Ultrapeers that are more 'connected'. Also, as time goes on and the network grows, you'll receive more results. Moreover, we are currently working hard to ensure that any Ultrapeer you connect to will be well connected - stay tuned to future versions of FrostWire.
Q:
What types of files can I search for and share using FrostWire?
A:
If the file can be put on to a computer, you can search for it with FrostWire.
FrostWire can search for virtually any file type, allowing users to share audio, video, and program files, to name just a few. For further information on which types of files are shared by default, see Tools > Options > Sharing. For more information on the file extensions associated with each file type, please review the following [
page
]
Q:
Why can't I find the file I'm looking for?
A:
The content of the Gnutella network consists solely of files which people running Gnutella software are sharing. If nobody is sharing the particular file you're looking for, you won't be able to find it using FrostWire. Furthermore, even if somebody running Gnutella software IS sharing the file you're looking for, it's possible that person doesn't fall within your reachable area. In this case, you won't be able to find the files you're looking for, either.Since the entire Gnutella network isn't always reached with each search, searching for the same thing a second time may yield more results. The Gnutella network is continuously growing. In general, the more people that use it (and the longer they keep the application running), the more good content will be available to everyone.
Q:
Can I control the maximum number of searches?
A:
Yes. Go to: Tools > Options > Searching > Basic. From there you can change "Maximum Searches" (set at 5 by default). It controls how many search tabs you can have at once.
Q:
FrostWire isn't as connected as it used to be! I only get a few searches in my 'Monitor' window!
A:
The latest versions of FrostWire will designate you as either a "Leaf" or an "Ultrapeer". If you are a leaf shielded by an ultrapeer, you will not be able to see all the search terms being sent to the network. However, if you are an ultrapeer, you will see a constant stream of search terms in the Monitor window. It is also possible that some leaf nodes will see a constant stream of incoming searches if the files that they are sharing contain popularly searched keywords.
Q:
How does the Junk button work?
A:
If you see a search result that is not relevant to your query or one that appears to be a virus of some sort, you can now mark it as Junk by selecting it and then clicking the "Junk" button. Over time, FrostWire learns which files are relevant and which ones are not. If a relevant file has been marked as Junk by the filter, then you can mark it as "Not Junk". When you feel confident that FrostWire has learned which files should be marked as junk, then you can instruct FrostWire to hide all junk results by going to Tools > Options > Filters > Junk.
Q:
Why do I keep getting "Need More Sources"?
A:
There are several possibilities:
Each Gnutella user has a limited number of slots reserved for uploads. When these slots are filled, you'll see a message that FrostWire is waiting for a certain number of "busy" clients. FrostWire will automatically retry downloads from these clients after a variable period of time in hopes that upload slots will become free. However, if the person who has the file you're trying to download has too many people requesting files, he won't be able to serve any more file requests, and your connection will be refused.
If the person who has the file you're trying to download has recently turned off his computer or has disconnected from the Gnutella network, you will be unable to download the file.
If the person who has the file you're trying to download is running inferior or buggy Gnutella software, the download could fail for any number of reasons.
If the person who has the file you're trying to download has since deleted the file or moved it, you may encounter problems downloading the file.
To minimize the chances of failed downloads, make your search more specific.You will have more pertinent search results from which to choose a download.
Q:
Why do some things take so long to download?
A:
The speed at which a download takes place is limited by both the bandwidth of the downloader and by the bandwidth of the uploader. A file cannot by transferred faster than the uploader is capable of sending it, nor can it be transferred faster than the downloader is capable of receiving it. If you have a T1 Internet connection and you are trying to download a file from a person with a 56K modem, your transfer is going to take place rather slowly. Furthermore, some clients limit the speed at which they will upload files for the sake of saving bandwidth.
Q:
What's the difference between "Need More Sources" and "Awaiting Sources"?
A:
They are identical except that you must wait a short period before finding more sources if "Awaiting Sources" is the status of a download.
Q:
When I try to download certain files I get a message that says "Waiting for busy hosts". What does this messages mean?
A:
The "Waiting for busy hosts" message occurs when the server refuses your download because it is too overloaded. In other words, demand outstrips supply. FrostWire will continue to retry the download as long as it gets the busy signal. If you're willing to wait long enough, you'll probably get the file.
Q:
When I select a search result and click the Download button, nothing happens! What's up with that?
A:
You may have selected "Always use this answer" on a dialogue box. In order to correct it, go to Tools > Options > View > Popups > Revert to Default.
Q:
Why do my pending downloads have the "Queued" status?
A:
If you have selected more files to download simultaneously than you have allowed in the Options, then any additional files you choose to download will automatically remain in the "Queued" status until more download slots become available. In order to increase the number of simultaneous downloads, go to Tools > Options > Downloads, and then change the number of Maximum Downloads.
Q:
Can I resume the download of a file?
A:
Yes. Click the Resume button while your download is selected. If the incomplete file is still on your computer but does not appear in the list of downloads, go to the Library, click "Incomplete Files" and then resume the download from there.
Q:
What happens to my active downloads if I exit FrostWire?
A:
If you exit the FrostWire program, any downloads that were in progress will terminate at this time. These downloads will resume the next time you start the program, but only if the host of that download is connected to the Gnutella network.
Q:
Where are my files stored before they have completed the download process?
A:
They are stored in an "Incomplete" directory. Click the "Library" tab to view.
Q:
Can I "preview" files before they have completed downloading?
A:
You can preview in-progress downloads of media files by simply double clicking on the name of a file currently being downloaded or pressing the "Launch" button after highlighting the file being downloaded. Note that not all files can be previewed. If you encounter any problems when trying to preview a file, it may be that the file is in use by another program. If that's the case, either exit the program that is previewing the file, or do not preview the same file twice in a row.
Q:
Does FrostWire preserve the state of downloads in the case of a system crash?
A:
Yes. FrostWire will generally behave as if you had quit the program.
Q:
How can I prevent my children from seeing adult content in the search results?
A:
The filter option can block access to files in a variety of ways. Go to Tools, Options, Filters, and Keywords. Here you'll be able to set limitations to the search results you receive. For example:
If you don't wish to see particular search results (for example, pictures of Niagara Falls), enter that data into the text field and click "Add".
Click on "Ignore Adult Content" to filter pornography.
You can use the built-in "Ignore vbs files" and "Ignore .htm/.html files" features to block Visual Basic Scripts and web pages, respectively, from your search results (please note this can also be done by searching for media types only).
If there are particular IP addresses you wish to ignore (if, for example, a particular IP address was sending you unsolicited results), click under Hosts where you could enter that IP address into the "Ignore these hosts" window and click "Add."
FrostWire can also learn which types of files are "junk" search results and which ones are valid. When a "junk" result is retrieved, select it and click the "Junk" button to mark it as junk.
Q:
Might I download a virus using FrostWire?
A:
FrostWire does not keep any record of files being shared on the Gnutella network, nor does it scan any files being uploaded or downloaded for viruses. Therefore, if you attempt to download a virus-infected file using FrostWire, you will be vulnerable to any viruses contained in that file. Generally speaking, you should be very careful when downloading files with a .exe or .vbs suffix, since these files are more likely than most to be viruses. FrostWire's Library will also not launch these files, so you can only run a file with a virus from outside FrostWire. (FrostWire's Library will not launch exe, vbs, lnk, bat, sys, or com files) Scanning the files you download with some sort of virus-protection software is also a good idea.
Q:
How do I prevent downloading bogus files that are actually advertisements?
A:
Some servers on the Gnutella network serve advertisements with false filenames to fake popular search results. If you find yourself downloading search results that end up being advertisements, you can stop receiving search results from that host by doing the following:
On Mac, highlight the search result in question by clicking on it. Hold down the apple key and click the mouse. Check "Block Host".
On Windows, right click the search result and "Block Host".
Additionally, you can mark suspicious search results as junk by selecting them and clicking the "Junk" button. If a file has been marked as junk that is a valid search result, it can be marked as "Not Junk". FrostWire will learn over time which search results are valid and filter out the junk results accordingly.
Q:
What is an upload slot, and how many does each user have?
A:
Upload slots represent the number of files other users can download from you at any one time. The default number of slots varies based upon the connection speed you set at installation, and the default bandwidth usage is set at 100 percent of your connection speed. You can self-configure your number of upload slots and percentage of bandwidth usage by clicking on Tools > Options > Uploads > Basic/Slots.
Q:
Can I shut down FrostWire--but not interrupt-uploads that are in progress?
A:
If you put FrostWire in your system tray it will continue your active uploads, even after FrostWire has been shut down. FrostWire does this automatically when you close it.
Q:
What if I'm behind a firewall?
A:
FrostWire will work when a user is behind certain types of firewalls, but will not work behind certain other types. In general, if you can connect (you will see your "connection status" in the lower left hand corner of the application) using FrostWire, you should be able to download and upload files.
Q:
How can I tell if I'm behind a firewall?
A:
In general, many corporations are behind firewalls, whose configurations vary greatly from organization to organization. See your system administrator for further details. FrostWire will also notify you if it detects a firewall by displaying a globe icon with a brick wall in front of it, which is directly to the right of the connection status indicator. If the globe does not have the brick wall in front of it, then you are not behind a firewall.
Q:
How to Share/UnShare files?
A:
FrostWire can share individual files or entire folders with all the users connected to the Gnutella Network.
FrostWire will not automatically share the files you've downloaded unless you choose to do so under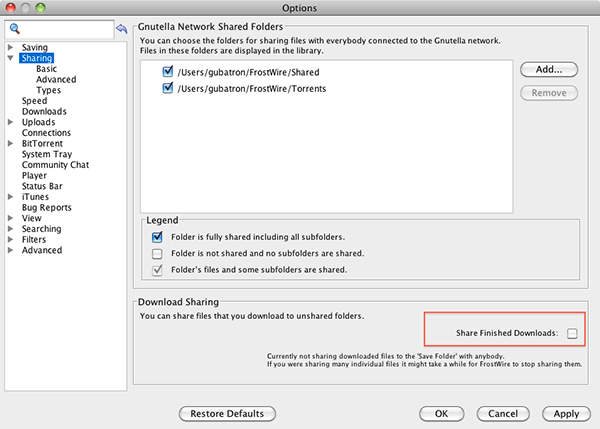 How to share finished downloads
You can also share/unshare files on the Gnutella network in several other ways:
Another way of sharing Files is through BitTorrent Seeding
Q:
Will the number of files I share affect my FrostWire experience?
A:
It could. If you're not sharing enough files, users with certain connection preferences won't let you connect to them for downloading. For this reason, we recommend all FrostWire users share generously with one another. Still, we advise you to be selective with the files you share. For instance, DO NOT share your entire hard drive, as this may allow others to access files you don't want them to.
Q:
How do I sort my files?
A:
You can sort your files by pressing the "Column Header" where it says "Name," "Type," "Size," etc. Pressing the column header again should sort it in the opposite direction.
Q:
How come when I try to delete a file in my Library, it says, "Unable to Delete the File. It may be in use by another application"?
A:
When this happens, it could mean the file in question is in the FrostWire Playlist. Remove the file from the Playlist first, then press delete. If this doesn't work, make sure the file isn't in use by another application like WinAmp. You can also manually delete by going to your C:\Documents and Settings\[user]\Shared folder on Windows or the FrostWire folder in your Applications for Mac.
A:
FrostWire does not have built-in CD burning capabilities, however other programs do, and your operating system may have CD-burning capabilities. If you would like to burn CDs, you would need to obtain a program that burns CDs or locate that feature of your operating system. You will also need to know the location that your files are downloaded to in order to use them. With a default Windows XP installation, your downloaded files are stored in the Shared directory located at C:\Documents and Settings\user\Shared where "user" is the name you use to log on to Windows. Windows users can also click the Explore button in the Library to access the downloaded files.
Q:
How do I transfer files to my iPod?
A:
A seed is a client which has a complete file. Seeding is the process of connecting to a torrent when you have a complete file.
FrostWire is by default configured to seed BitTorrent Data files, this means Finished torrent downloads will appear as "Complete/Seeding" and you will be contributing to the swarm. Most BitTorrent Trackers will take into account how much you seed, the more you share the more you'll receive. See Ratio Credit for more information.
If you don't want to seed finished torrents (and become a permanent Leech = someone who just downloads and doesn't seed) you can always turn off Seeding at: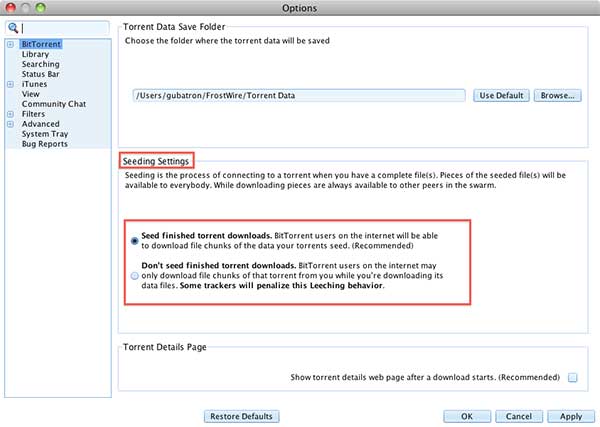 When turned seeding is turned off your finished torrent downloads will appear with status "Complete/Not Seeding" and next time you restart FrostWire your previously finished torrent downloads will not be announced to any trackers.
"It's generally considered a good idea to leave your client open as long as possible, since it helps other users. Some communities have guidelines on when it's permissible to disconnect, typically after the ratio of bytes received to bytes sent reaches 1:1, or 24 hours after the download completes. Please be nice, and do what you can to contribute to other users." Brian's BitTorrent FAQ
Q:
Can I use FrostWire with AOL?
A:
Yes, AOL version 6.0 will support the FrostWire client. Some people have found that the spyware removal program included with AOL misidentifies FrostWire as spyware and removes it from your computer. If you are having this problem, you should stop using AOL Spyware Protection and use a different spyware removal progam.
Q:
Does FrostWire support proxy servers?
A:
Yes, FrostWire 4.0 and later supports proxy servers.
Q:
Can I use FrostWire if I have Web-only access?
A:
No, you cannot. FrostWire requires it's own direct connection to the internet on a protocol other than what is used for normal web browsing.
Q:
What operating systems does FrostWire support?
A:
You can run FrostWire on any of the following operating systems:
Windows 7, Windows Vista, XP, 2000
Mac OS X 10.2.6 or later
Mac OS X Server
Solaris/Sparc 2.6, 2.7, 2.8
Solaris/Intel 2.6, 2.7, 2.8
Compaq Tru64
FreeBSD
IRIX
HP-UX 10.20, 11
AIX 4.3.x
Linux Redhat 6.2, 7, 7.1
Linux Caldera
TurboLinux
FrostWire will run on many Unix and Linux varieties if you have the Java Runtime Environment installed, although the installer may not work correctly.
Q:
What language is FrostWire written in?
A:
FrostWire is written entirely in Java (using Swing), and we have specialized installers for most platforms.
Q:
Is FrostWire's source code available?
A:
Yes it is. FrostWire is
open source
, which means that anyone can view or change the source code. Please see the
development page
. You will be able to find our BitBucket.org repository, feel free to fork, clone, hack, commit, push and send pull requests to the official repository so that we can merge your work into our code base.
Q:
Are there security risks associated with using FrostWire?
A:
As long as you don't share your entire hard drive or any other personal data, you shouldn't encounter any significant security risks using Gnutella. Make sure you are sharing only files you want to share, and to be completely safe, don't run executable programs that you obtain from the Gnutella network.
Q:
Does FrostWire have spyware?
A:
Absolutely not! FrostWire does not come bundled software of any kind. None. Zero.
Q:
When I open FrostWire, the window is completely white or gray. How do I fix this?
A:
If the contents of the FrostWire window are completely white or gray, then there is an incompatibility with your graphics settings and Java's ability to render the FrostWire window. Try setting your graphics settings to factory default and/or reduce your refresh rate. If this does not work, others have had success by either upgrading their graphics drivers, rolling them back to a previous version, or disabling any hardware-driven graphics functions such as anti-aliasing.
Q:
FrostWire starts all by itself without me even clicking the icon to open it! When, I close it, it opens up again. Does my FrostWire have a mind of its own?
A:
Yes, FrostWire is a sentient being. Just kidding! You have probably been infected with a worm. There is a worm called "Alcra" that has been circulating among Windows systems. It spreads by launching FrostWire so that other users on the network can download infected files on to their computers and continue to spread the worm to yet other computers. Please upgrade your virus definitions so that it can be detected and removed from your computer. Due to the speed at which new strains are released, your anti-virus software may not be able to detect it. In that case, you would either have to remove the worm manually or submit it to the manufacturer of your anti-virus software so that new virus definitions can be created.
Q:
I'm using FrostWire on OS X and FrostWire won't shutdown unless I force quit! How can I fix this?
A:
FrostWire's default shutdown setting is to minimize itself to the system dock until all transfers have been completed. If you would like FrostWire to shut down immediately upon quitting select options from the tools menu, choose shutdown, and change the setting to "Shutdown Immediately."
Q:
I'm using FrostWire on a Mac running OS 9.x or below, and FrostWire often freezes while I am using it. What can I do?
A:
Go to the "Get Info" window for FrostWire and increase the preferred memory size to 40 MB or more if you have it available. Apple highly recommends allocating 64 MB or more.
Q:
I'm using a Unix system and I can't access your support documents by utilizing the "Using FrostWire" help menu. What should I do?
A:
Your web browser may not automatically launch on some Unix systems. In this case, go directly to our Support Center [
here
].
Q:
Can I get FrostWire to work for multiple users?
A:
Yes. We have made a couple of changes in the installer that will override the default permissions on Linux and other Unix systems. You and other users in your group should be able to run FrostWire. If you have installed FrostWire on Windows XP, but only have an icon on one user account, follow these instructions for each XP user:
Click the "Start" Menu in the bottom-left corner of your screen.
Click "Search"
Click "All Files and Folders"
Type "FrostWire.exe" into the blank and search
Right-click the file, then go to "Send To", then click on "Desktop (create shortcut)"
Q:
Is there a FrostWire Player?
A:
Yes. FrostWire not only allows you to download files, but there is now a built in FrostWire Media Player with a playlist so that you can listen to mp3 files. To turn off this feature, go to Options under the Tools menu item, press Player and click the feature off.
Q:
How do I change the language in FrostWire?
A:
In order to change the language used in FrostWire, complete the following steps:
1. Open up FrostWire
2. Click "View" (or the second menu item if it is not in English)
3. Go to "Change Language" (or the last menu item if it is not in English)
4. Choose your language
5. Completely shut down FrostWire, including in the taskbar and system tray, and then restart FrostWire