Download privately with a VPN
To download files and torrents with privacy, security, and anonymity, we highly recommend that you use a VPN with FrostWire.
We tested out many VPN providers, and our top recommendation is ExpressVPN.
How do I use ExpressVPN with FrostWire?
ExpressVPN is quick to set up and simple to use. If you can use FrostWire, you can use ExpressVPN. Here's how:
1. Sign up for an ExpressVPN account.
2. Use ExpressVPN's Speed Test and connect to the server location with the fastest speeds.
3. Use FrostWire with privacy, security, and peace of mind!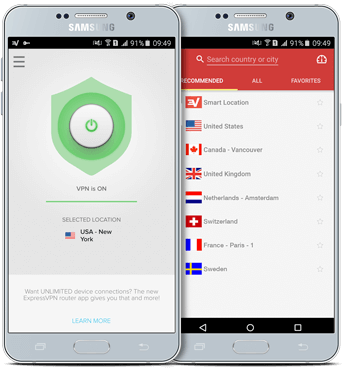 Why is ExpressVPN the best VPN for downloading?
ExpressVPN protects your privacy and anonymity:
VPN kill switch. ExpressVPN's kill switch stops Internet traffic from entering and leaving your Windows or Mac computer if you're disconnected from the VPN.
Zero logs. ExpressVPN has a strict no-logging policy.
Pay with Bitcoin. ExpressVPN accepts PayPal, Bitcoin, credit cards, and many other payment methods.
Apps for all devices. ExpressVPN has apps for Windows, Mac, Android, Linux, iOS, and routers.
ExpressVPN gives you blazing-fast download speeds, unlimited bandwidth, and unrestricted access:
Speed test. ExpressVPN's Speed Test helps you identify the optimal VPN server location for the best download speeds.
Massive network of VPN servers. ExpressVPN has thousands of servers in 87 countries.
Unlimited bandwidth. ExpressVPN does not restrict bandwidth so you can download as much as you want.
Bypass filters and firewalls. ExpressVPN helps you punch through firewalls so you can download anything, no matter where you are.
ExpressVPN wants to keep customers (like us!) happy:
24/7 Live Chat Support. ExpressVPN's friendly support staff is there around the clock to help you with any of your problems. (Even at 4:00 a.m.!)
30-day money-back guarantee. If you are not happy with ExpressVPN, they'll give you a full refund, no questions asked.
Why do I need a VPN when I download files?
A VPN (virtual private network) helps you go online with privacy, anonymity, security, and freedom by creating an encrypted tunnel between your computer or device and the Internet.
A VPN proxies you Internet traffic so you can disguise you IP address and location, bypass content filters and firewalls, and hide your Internet traffic from your ISP, government, and anyone else trying to snoop on what you're doing.
What happens if I download files without a VPN?
If you don't use a VPN when you download files...
The websites you visit can uniquely identify you using your IP address and location information.
Your ISP and government can monitor what websites and services you're using online.
If you're concerned about your privacy and anonymity when you download files, get a VPN.